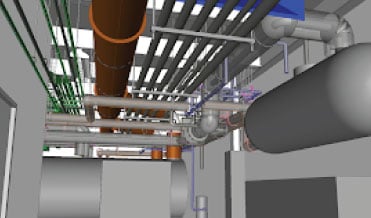 At MSD, we create 3D models of our systems using real world materials & equipment from manufacturers' own libraries. This allows us to fabricate pieces & pre-fabricate sub-assemblies directly from our coordinated models.
We insert our HVAC & Plumbing models into the Architectural/Structural file to allow for collaboration with the other trades, general contractor & the design team to ensure all systems are coordinated to fit into the building model.
Our drawing sheets are integrated into the same file as our models, allowing us to deliver accurate documentation to the field for installation.
The MSD CAD Team is also equipped with a 3-D Scanner which allows us to digitally document existing conditions on renovation projects. That data can then be loaded into the coordination model, minimizing the risk of clashing with the existing structure. We're also able to utilize this tool to scan after installation, in order to document the as-built conditions.
VDC Services
3D Model Evaluation

Provide a critique of the 3D model based on the original 2D drawings and project specifications.
Provide a 3D evaluation report which would state how the model was evaluated, the results of the evaluation (incl. score card) and a list of recommended improvements.
3D Model Coordination
3D Model coordination of HVAC (Sheet metal and piping) and Plumbing using Autodesk Revit, Navisworks and BIM360 Design.
Clash detection against architectural, structural and all other trades.
Provide lead in coordination meetings or assist as needed.
Export files to locate underground stub ups, hanger points, etc.
2D Detail Drawings
2D detailed drawings created from the coordinated 3D Revit model using customer title block and drawing standards.
2D AutoCAD drawings
3D Modeling
3D model creation using AutoDesk Revit.
LOD (Level of Detail/Development) per customer's specifications. (Normally LOD 300 to LOD 400)
3D Laser Scanning
Spooling and BOM creation.
Plumbing/HVAC Design
Provide plumbing layout design, detailed plumbing shop drawings and installation drawings.
Includes the following systems: Domestic hot and cold water piping, Sanitary piping, Medical gas piping, Compressed air systems, Natural gas piping, Drainage and Vent systems.
In 2021 will have a certified plumbing designer (CPD) on staff.
HVAC design stamped by a State of Ohio registered professional engineer.