learn about
VDC COORDINATION
MSD creates 3D models of your systems using real world materials & equipment from manufacturers' own libraries. This allows us to fabricate pieces & pre-fabricate sub-assemblies directly from our coordinated models. We insert our HVAC & Plumbing models into the Architectural/Structural file to allow for collaboration with the owner and associated trades, and ensure all systems are coordinated for proper fit into the building model. Following model completion drawing sheets are extracted to deliver accurate documentation for field installation. The use of our 3-D Scanner technology allows us to import existing building conditions into the coordination model, minimizing the risk of clashing with the existing structure and new systems. We're also able to utilize this tool to scan after installation, in order to provide our clients with complete as-built documentation.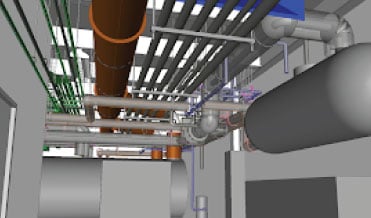 3D & 4D BIM (Building Information Modeling) Laser Scanning
Scan to BIM Model
As-Builts Virtual BIM Model Tour
Detail Spooling for Fabrication Assembly Trimble Total Station
Field Point Layout
BIM offers unprecedented benefits in terms of productivity
and reducing costs throughout a projects life cycle.