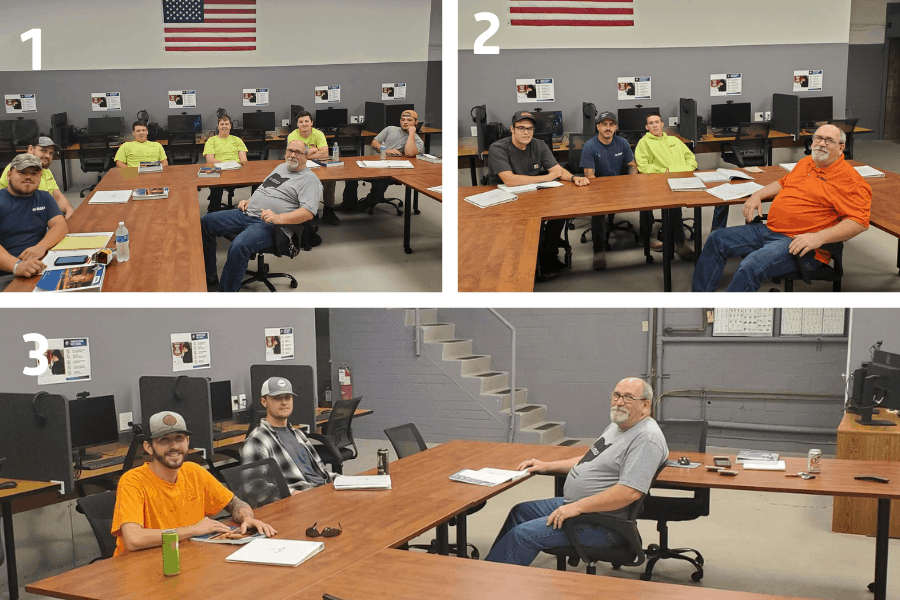 Here at MSMU we strive for excellence and provide opportunities. Our Operation Education & Training Manager, Randy Rose, and his Team have been hard at work converting our Training Room located at our Headquarters over the past few months. This room serves the MSMU apprenticeship program and training programs for those in our industry.
The renovations included new tables, chairs, and computers and an 82" flat screen for presentations and training-based slide decks. In addition to the new equipment, we have also added new walls and a refresh to the paint colors. New testing stations have been implemented as well (Pictured Below) to ensure students a safe, focused location to be trained.
The apprenticeship program is also known as MSMU is currently using an accredited association National Center for Construction Education and Research (NCCER). This association offers an abundance of learning materials  – – Certifications, Statistics, Online Testing, and more. MSMU has developed custom books based on NCCER's curriculum to meet industry needs related to sheet metal, piping and plumbing, and upcoming programs for Journeymen. Learn more about NCCER by clicking here! Instructors, Randy Rose (Sheet Metal) and Tim Evans (Plumbing) are anxious to train those interested.
Randy Rose has made a statement with this new facility location by providing the students a secure location for classes, testing, and more. Rose has many accomplishments under his belt including the following: ABC Sheet Metal Instruction, Construction WorkForce Consultants Apprentice Instruction Training Program, ESCO Institute Refrigeration Technician, NCCER Curriculum Proctor, NCCER Core Curriculum Instructor, NCCER HVAC Craft & Curriculum Performance Instruction, NCCER Sheet Metal Instruction, and NCCER Master Trainer & Administrator. Rose has over 38 years of experience in the Mechanical Field. In addition to Rose's position as Operation Education & Training Manager, he also serves as a Sheet Metal Apprentice Instructor for MSMU.
Our team would also like to thank Certa-Pro for working on a new space for our students and faculty. We would also like to thank the following employees for supporting the vision and helping along the way: Sherry Yoho, Brad Bradley & Jackie Tangeman. Team Member Jason Kyne for the installation of our new walls, and Dana Beighle for the electrical & lighting work.
Picturea Above & Below: MSMU Apprentices/Training Room
1) Plumbing Level 1: Ryley Anton, Ronnie Arthur, Cole Flack, Mason Jurgens, Ben Sherrill, Tim Evans
2) Plumbing Level 2: Ben Waker, Ryan Ditomasso, Luke Bradley, Tim Evans
3) Plumbing Level 3: Brayden Gillette, Josh Thompson, Tim Evans
4) Plumbing Level 4: Tony Sandlewick, Dillon Keller
5) Sheet Metal Level 1: Jase Cvetkovich (Not Pictured), Brad Frantz  (Not Pictured), Adrian Moore, Dalton Ratcliff, Spensir Robinson, Noah Taylor, Nathan Waites, Ethan Watkins, Randy Rose
6) Sheet Metal Level 2: Blake Thomas, Ryan Bennett, Steve King, Dustin Shiverdecker
7) Sheet Metal Level 3: Zach Marlowe, Brandon Gilbert, Randy Rose
8) Dillon Keller & Tim Evans after Keller found out he had passed his plumbing journeyman's license.
9) First Time Test Takers in the new Training Room.