COMMERCIAL DRAIN CLEANING
We know drains because we install them.
As a trusted name in our industry for over 30 years, MSD is the leading expert for all of your commercial and industrial drain problems.
From emergency 24hr service to planned maintenance, our experts keep your drains working properly to maintain your daily operations.
Thanks to our committed investment in drain technology, we provide accurate and cost efficient solutions.
A few of the technologies we specialize in:
High Pressure Water Jetting — This high powered, yet green technology uses only water and no additional chemicals. Not only can we clear the most difficult blockages in the largest of drains, but we will also scrub any drain piping clean of build up. Many times, we can restore your drain to 'like new' conditions.
Mini High Pressure Water Jetting — No longer reserved for large drain applications. We now offer the same cleaning quality for smaller drains.
Digital Drain Imaging and 3D Location — We make your drain problems transparent. Leveraging digital color CCD imaging and 6-channel tracker, we eliminate all the guess work in identifying your problem. A difference you can literally see.
Highest Horsepower Cable Machines in the Industry — Time is valuable. We have what it takes to power through the job right… the first time.
[/fancy-ul][/vc_column_inner][/vc_row_inner]
Because estimates are always free, allow one of our experts to show you the cost savings of MSD vs. the competition. We believe in 'right-size service'. You will never pay for more than what you need.

Drain problems vary from business to business, based on type of demands placed on them. This also means there is no one-size solution for every drain system problem. General cable cleaning works well to unstop blockages by cutting or chopping through debris; however, its cleaning ability is limited to the size of the cable – leaving grease and other debris on the piping walls.  Hydro-jetting is an effective way to remove blockages and clean the system walls that cable systems may leave behind.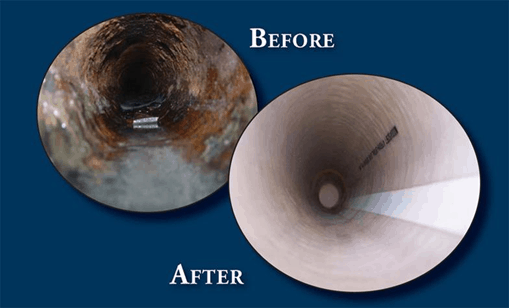 Many businesses rely heavily on their drain systems working properly to maintain daily operations. When drain issues stop your business, time is of the essence when it comes to maintaining the bottom line and schedules. You can count on the MSD team with a quick and professional response to handle any situation. We'll get you back up and running in a timely fashion.
When "up-time" is your main concern, having a custom tailored, scheduled maintenance program in place gives you the peace of mind in heading off these problems before they shut you down.